evolve
magazine's weekly webradio is a creative forum for a new, trans-secular spirituality.
We are
LIVE on air
every Thursday from 20:00 - 21:00 Central Europe Time. (Please check
World Time Buddy
for the time in your location.)
Click to access the live webcast
Radio evolve invites people who are making visionary contributions to a new, integral, and evolutionary culture to join in dialogue. We feature people who are exploring how to live a spiritual life in our changing, complex contemporary world. They include authors, teachers, activists, scientists, artists and more. Out of our desire to creatively combine diverse perspectives into a new integral worldview, Radio evolve opens up spaces of understanding and encounter to inspire us to a more conscious life. Annette Kaiser, Thomas Hübl, Ervin Laszlo, Prof. Thomas Görnitz, Claus Eurich and many others have joined us so far. We now have over 300 episodes (in German) on philosophy and mysticism, progressive spirituality, science and transcendence, society and cultural policy, ecology and development – and they are all available for you to listen to and download from our archive.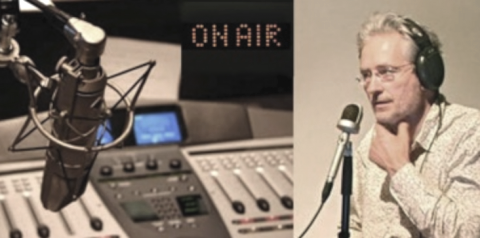 The evolve webradio program was founded in 2010 by Dr. Thomas Steininger, publisher of the quarterly German-language magazine evolve for consciousness and culture. The program now has between 800 and 1000 regular listeners. Thomas has developed his own style of spontaneous dialogue that highlights the visionary nature of his studio guests' work. Through developing a shared field of consciousness with his guests, Thomas guides the dialogue so as to reveal the potential of an intelligence between human beings that arises from the creative immanence of the moment. Radio evolve creates a special relationship between radio guest and audience. The experience of our listeners is that these conversations have become a dynamic forum for reflection and inner growth.

Starting in 2018, Radio evolve includes English-language programming. Every other week the program is in English with guests from around the world. Through One World in Dialogue, Thomas and his partner Elizabeth Debold have created a global community that, combined with the listeners of Radio evolve, can help to foster a new global culture of consciousness.

We warmly invite you to experience the aliveness, authenticity, and power of conscious radio.


Click to access the live webcast
German-language broadcasts 2020:
09. Jan | 16. Jan| 30. Jan | 13. Feb | 27. Feb | 12. Mar | 26. Mar | 09. Apr | 23. Apr | 07. May | 21. May | 11. Jun | 25. Jun | 09. Jul | Summerbreak | 03. Sept | 17. Sept | 01. Okt | 15. Okt | 29. Okt | 12. Nov | 26. Nov | 10. Dec

English language broadcasts 2020:
Jan 23 | Feb 6 | Feb 20 | Mar 7 | Mar 19 | Apr 2 | Apr 16 | Apr 30 | May 14 | May 28 | Jun 04 | Jun 18 | Jul 2 | Jul 16 | Summerbreak | Sept 10 | Sept 24 | Oct 08 | Oct 22 | Nov 05 | Nov 19 | Dec 03 | Dec 17
New to Radio evolve and One World in Dialogue?
Enter your e-mail address here and you will receive free and non-binding access to our full archive with over 300 items. We will let you know about our upcoming guests via email twice a month - so you always have your finger on the pulse of Radio evolve. If you do not want to receive any more emails from us, you can unsubscribe at any time.