The past year has been a difficult one for many of us. The coronavirus has endured and mutated through a second year, our societies are fracturing even more deeply, and our Mother, Earth, shows increasing signs of stress. How are we to respond? So much needs to happen. But can anything truly positive come from our efforts if they are not rooted in a profound trust in the life process? Whether we are inspired by the urgency to create change, overwhelmed by the stresses on us, or struggling in isolation, a meditation retreat can be a powerful way to discover trust and develop courage in these times.
You are invited to join hearts with others around the world in the deep stillness of meditation. Through the power of Zoom videoconferencing, together we can create a living field around the Earth to mark the turning of the year.
If you would like gentle guidance and companionship into deep stillness and existential reflection, this live, virtual retreat might be ideal for you. We will bring together stillness and movement that will lead up to a unique New Year celebration–a rite of passage. At the turning of the year, we will journey together for 24 hours as we cross into 2022 around the globe.
Meditation takes you deep into the essence of life, opening you to its mystery and beauty. It allows us to reflect, not simply about our own lives, but about the nature of the Life we are each expressions of.  The end of the year is an ideal time for such reflection. In this time of social uncertainty, this annual transition into the New Year can be a global ritual and rite of passage as we consciously move from one year into the next. It is an opportunity to re-affirm our love for Life and trust in the human Spirit. In meditation, our focus is the depth from which nonseparation and co-conscious creativity emerges. On retreat, you can join us in daily meditations and our Global New Year Turning to welcome in the New Year, 2022.  
We invite you, alone or with friends, to create your own retreat space in your home or in a beautiful spot that you choose. You can join us for one, three, six…or as many hours of meditation as you like via live feed from Germany, where your guides and a strong team will be meditating. You will be able to join our meditation space any time of day or night during the retreat. No matter where you are on Earth, you can join others around the world to sit in stillness and peace together.
The online retreat is free–and we encourage donations. Your donations make it possible for us to present this program. We make you the gift of this retreat, and ask that you complete the circle by making us a gift in return. If you cannot manage a donation, then give fully of your time, intention, and attention in participating wholeheartedly in the retreat.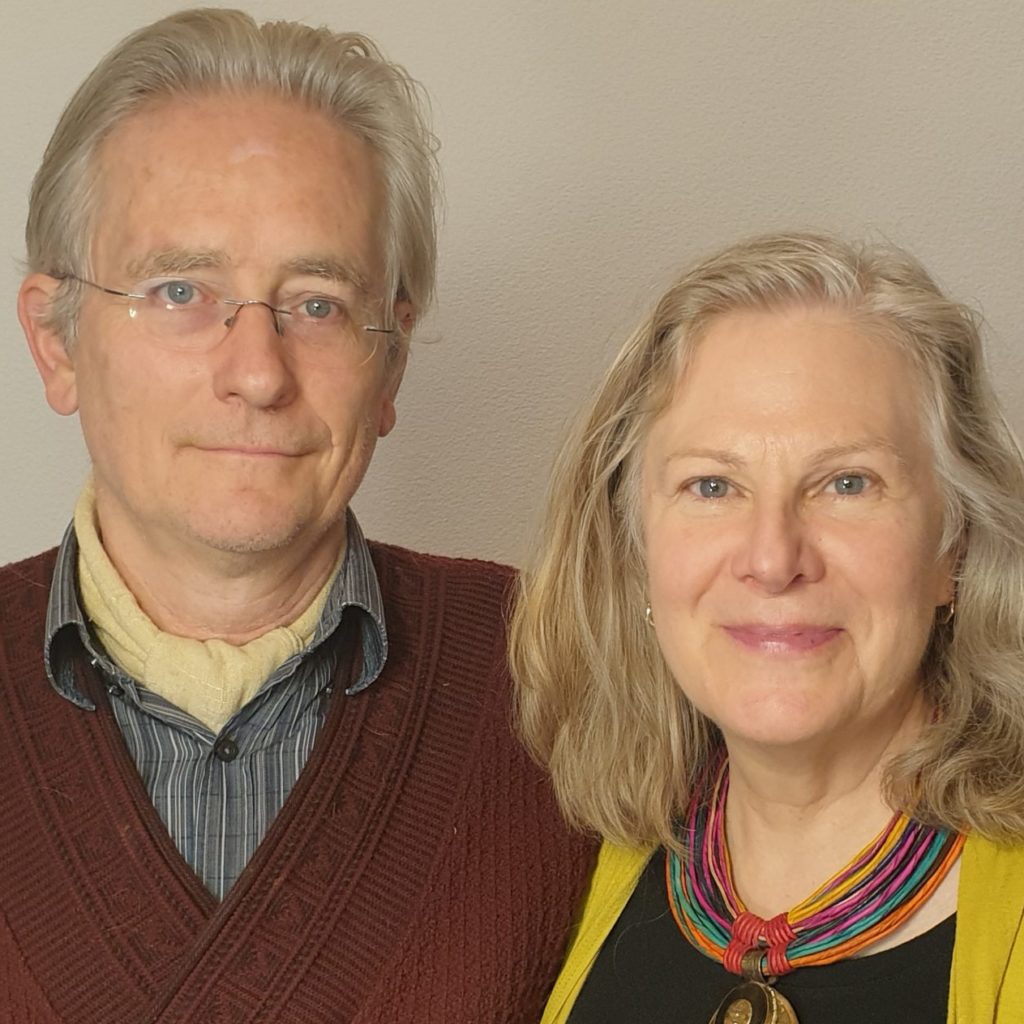 Thomas Steininger and Elizabeth Debold guide the retreat. They have over thirty years experience as meditators, and have been supporting others in developing their capacity to meditate for two decades. They are also pioneers of emergent dialogue, a practice of meeting in what they call a co-conscious We, where human beings experience the potential of living in the awareness of wholeness.
Elizabeth is a developmental psychologist with a life-long passion for the evolution of our humanity. Her experience is that creating co-conscious We spaces through dialogue provides a new way of understanding ourselves as embodied human beings. An author, writer, and editor of evolve-magazin, her work explores the intersection of cultural and gender development. Along with Thomas Steininger, she guides the development of emerge bewusstseinskultur e.V., which is both a community of practice and a charitable education association. She founded One World in Dialogue, which seeks to create a new global awareness of unity-in-diversity and diversity-in-unity.
Thomas is a philosopher, practitioner, and spiritual mentor, who has immersed himself in the practice of meditation and in exploring the evolution of human consciousness, particularly the current transition from a hyperindividual "I" culture to a co-conscious "We." An authority on cultural evolution and the different spiritual and religious currents that have formed our postmodern world, he brings this perspective to his position as publisher of evolve-magazin, the leading German magazine on consciousness and culture. He is also the voice of Radio evolve, a weekly webcast. He has co-founded and developed the process of emergent dialogue, an advanced practice in conscious communication.
The Global New Year Turning
Beginning on the 31st of December, we will take a special 24-hour meditation journey that begins in the East with New Zealand and continues as the planet turns until 2022 finally arrives in the far West. You will experience the enormity of Earth, as she carries us all in rotation on her axis. We will have special readings or music at each region of the planet to hear the sacred call of Spirit from across the Earth. All participants are invited to meditate into the birth of the New Year at your location. And some retreatants will meditate from dawn on the 31st to dawn on the 1st, making a full global turning into the New Year.
For online retreat participants, we are delighted to have "Lohelanderin" Uta Jahns joining us to offer this unique form of movement for this New Year's meditation retreat.
Loving the joy of movement since childhood, Uta was fortunate to study Loheland dance and movement therapy as a young woman, becoming certified to teach in 1985. She brings a passion for the Loheland approach and enthusiasm about using Zoom as a way to teach and offer movement instruction. She will lead four sessions during the retreat.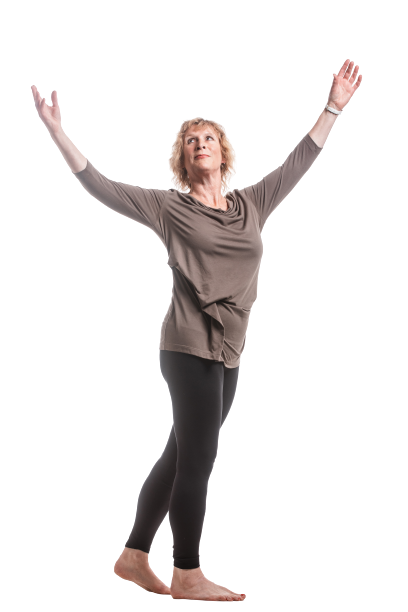 Lectio Divina: Reading Sacred Texts
We bring together the teachings of women and men, sages and saints, poets and composers to inspire us to abandon ourselves to the depth of meditation. Readings, and sometimes music, chosen for each day as appropriate to the progress of the retreat, bring our own awareness into resonance with the consciousness of these extraordinary humans. Each retreat is different, tailored to the situation as it arises. The retreat is guided through these voices, which are taken in deeply and intimately during the silence of meditation and through the practice of Lectio Divina, which means "Divine reading," and is a practice of reading sacred texts for their depth.
Pictured above are some of the persons whose voices we have worked with in past retreats: St. Clare of Assisi, J. Krishnamurti, Vimala Thakar, Thomas Merton, Simone Weil, and Lao Tzu.
The schedule has been updated.
There may be a few small changes, but this will be the basic structure..
The times shown should be your own timezone.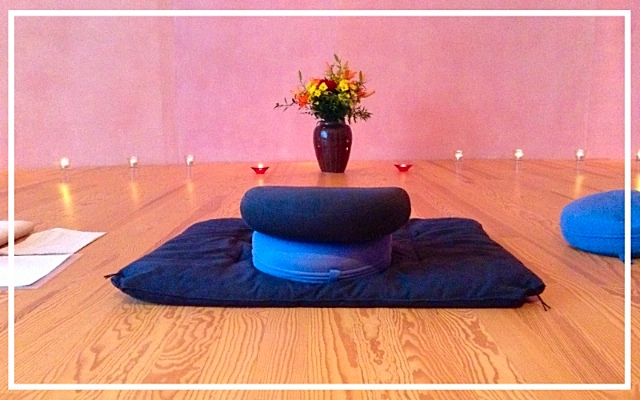 You choose how much you participate. The meditation schedule is set up so that persons from around the world can find up to six hours per day where they can join the retreat broadcast from Germany. We are also planning to keep the meditation room "open" on Zoom for 24 hours so that you can come and meditate anytime. You are also invited to our Global New Year Turning, as we experience the change of year as Earth turns.
The meditation practice that we encourage in the retreat is a radical openness–letting go into open awareness. This helps to build a tangible field of presence together. To support us, we engage with the spiritual practice of Lectio Divina, using short, carefully selected works from the spiritual traditions of the world. Lectio Divina is a practice of collective readings to deepen one's understanding and connection. The readings might include: Sri Aurobindo, Dag Hammarskjold, Vimala Thakar, Rainer Maria Rilke, Thomas Merton, Julian of Norwich, or even Beethoven who support us to engage with the unknowable. The texts are selected as the retreat is happening so that they are responsive, and co-created, by the energy and needs of the retreat.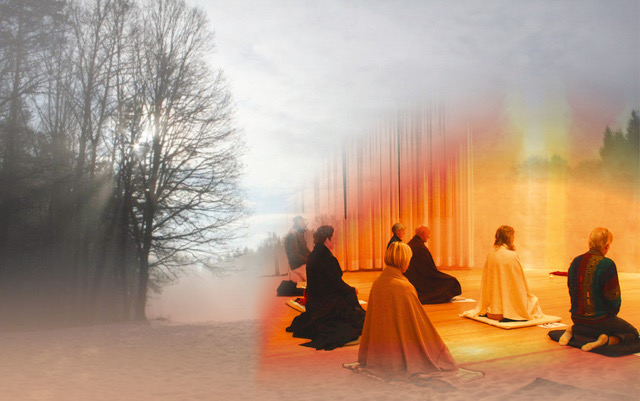 Movement Practice. Each day you will be able to have movement exercises with Uta Jahns designed to keep your body fresh and flexible so that you can experience your own physical presence in an increasingly subtle way. This movement and stretching of the body supports alertness and openness so that you can perceive and feel your physical and spiritual presence at increasingly subtle levels. The practice also supports the intensive sitting practice in meditation.
We encourage online participants to take a walk in nature or in a quiet area each day. We may also walk together, in silence, wherever we are. We will share the places we are globally–the mountains and hills, rivers and streams, lakes and oceans that we each call home.
We will also touch into emergent dialogue at the end of the retreat to bring the power and wholeness of silence into language. This will provide a transition from the depths of retreat into our lives in this new year. 
How to Prepare for an Online Retreat
To get the most benefit from this online retreat, it's helpful to prepare in advance:
Will you do the retreat on your own or with friends? We will provide you with enough structure and companionship to do the retreat alone. And, it's also great to gather a few close friends and meditate together.
Where will you do your retreat? Of course, you can do an online retreat at home–or anywhere. But a retreat is an opportunity to go deep and to start fresh afterwards. Having a special place–or creating one in your home–or finding a lovely spot in nature can enhance the retreat experience.
How will you prepare your food? We will have significant breaks between each 3-hour meditation session so that you can easily cook and eat at a relaxed pace. If you are with friends, share in the dance of cooking together in silence. Shop in advance, as much as possible, and use the cooking time to stay in a meditative space.
How should you create a schedule? Setting a schedule is more a matter of intention than convenience. Certainly, start by seeing which of the meditation sessions can work for you practically. But then think deeply about your intention for the retreat: do you want to have a light meditation support for a week of vacation or time off? Or do you want to go deep into Being and encounter the depths of your self? Create a schedule that you are confident that you can keep to–and then see if the currents of meditation bring you further so that you meditate more.