a free mini-course with Thomas Steininger & Elizabeth Debold
How to facilitate vibrant, co-creative video gatherings
Don't miss this second opportunity! June 10-13
Join us on Zoom
June 10-13!
Each session is 3 hours/day.
Scroll down for program content and times.
Can we help?

Right now, all of us who have been doing deep, intimate, and transformative work one-on-one or in groups are forced to go online. But many are also realizing that you can't just do online what you are used to doing in person to create trust and connection. It takes a different awareness to create a deep experience together.
As soon as we realized how many of our friends and fellow travelers were hitting the wall of the screen, we wanted to offer our help. For the past 25 years, we have been experimenting with ways to come together deeply over long distances and developing practices of "interbeing" or "intersubjectivity" (meaning: between us). Some call it We Space, and we call it either the HigherWe or emergent dialogue.
And because we were connected with people around the world, we had to use technology. First, we used telephone conferencing, then Skype, and now Zoom. We aren't tech experts (and this course is not about the technical aspects of using video conferencing). But along the way, we have developed the ability to bring the online experience alive and catalyze a new co-creative potential. We'd like to share this with you. We hope it helps you to do deep work with others at this time of upheaval.
We are offering this mini-course for free as our gift to our larger community of like-minded change-makers during this crisis. Quite a few people we know who work for themselves have found all of their work disappear! Supporting each other at this time is important. And if you have the means, you can make a gift to us–we would be happy to accept donations now or in the future to support our work.
Finally, another reason why we want to offer this to you for free: You are needed. At this time of confusion and chaos, where so many feel isolated, the work of coaches, change agents, organizational consultants, psychologists, and therapists of all kinds is desperately needed. The discovery of intersubjective  coherence and wholeness is both healing and activating to those who experience it.
The future needs you and the work you do. We want to help.
—Elizabeth Debold
& Thomas Steininger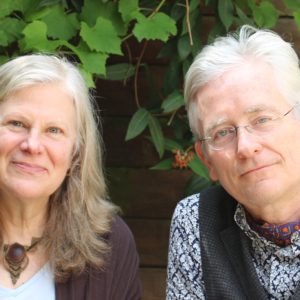 Thomas and Elizabeth are very skilled at creating spaces via technology in which there is a sense of deep connection. As if the screen falls away and we are sitting and breathing in the same space.
I have participated in two online classes with Thomas and Elizabeth that have been life-changing because of their experiential nature. For me, the ability to be in conscious intersubjective dialogic space with others, to sense and feel the presence of a Higher WE reality in our midst, and to learn to attune to its wisdom and to speak in coherence with its field of intelligence opens the door to a profound, new way of being human in the world. The result of this in my life seems to be a grounded, rooted, felt sense of trust despite the chaos in our world right now.
I am grateful for what Elizabeth and Thomas bring into the world. Their work offers guidelines to experience and begin to understand how to connect to the loving space that is between us and offers many valuable insights about being together on a new level.
I have greatly appreciated, benefited from and been inspired by the emergent dialogue groups and courses created by Elizabeth and Thomas. The intimacy and wisdom that appear between us in these conversations open me and the other participants to a loving, peaceful, engaged and forward-looking perspective that embraces and includes all of the human experience.
I have always found my time engaged with Thomas and Elizabeth in dialogues or programs to be rewarding, insightful, exploring deep spiritual meaning, and frequently challenging me to see new perspectives and connections. I can without reservation recommend any of their offerings to anyone seeking a compass direction in these difficult times.
They teach us ways of speaking from this place of deep connection and Wholeness, listening deeply to the Transforming Intelligence that is always present and available when we are willing to let go of an illusion of separation and self-sufficiency which seems to particularly, pervade our modern culture.
Co-creating possibilities for genuine dialogue in the We-Space is an art form and a necessity in today's unfolding story. Elizabeth and Thomas at
One World in Dialogue
explore innovative and inspiring venues for emergent dialogue while older paradigms and communication systems are failing to address urgent global needs.
An hour spent learning and practicing emergent dialogue can foster a deepening awareness of the profound connections among us just waiting to be embodied.
I hope others will benefit from their offerings as much as we have at
Prairiewoods!
This mini-course is for you, if:
Your work depends on creating connection and commitment and you find it harder to do this online,
You struggle to get co-creative momentum happening online in the groups you work with,
You and your clients/colleagues find it difficult to stay present during video sessions,
You find video sessions too often superficial or boring,
You and your colleagues feel there's too little embodiment in video sessions, and
You've discovered that you can't do what you are used to doing online.
PLEASE NOTE: The purpose of this mini-course is not about how to use Zoom. We will show different features of Zoom, but this is not a Zoom training. If you would like to learn more about using Zoom, check the Zoom website or FeelReal for that information. Our program is not an endorsement of Zoom, but Zoom is the platform that we know and it has features that are very helpful for interactivity.
First and foremost, being part of the HigherWe practice, experiencing for real a new and deeper way of being together, and also the thrill and excitement of bringing new insights and capacities into existence, is what gives me real hope for a better future for all of us and also the means for how to contribute to that.
I've been involved in business start-ups and integral community design for over 40 years… work that was frequently interwoven with my spiritual path. The discovery of We Space five years ago was like entering a whole new octave of possibility… in all three arenas. The current team course with Elizabeth and Thomas has been particularly beneficial for us since the cultivation of We Space has both increased our capacity to work with emergence within the business and to weave a much richer level of connection here in the community. In the face of the virally increasing challenges we face every day, the marriage of We Space and Online meeting technologies like Zoom are now simply essential to not only stay connected but to develop and access the higher levels of consciousness Einstein posited it would require to solve the complex problems before us today.
I found it uplifting and encouraging to meet so many others open to "thinking big," and focused beyond the everyday norm. The breakout sessions in small groups were a great way to get a tangible feel and practice of what can be possible. I already have worked with Otto Scharmer's Presencing -- and this We Space work was very complementary. It also supports me in coaching circle work. And believe it or not: our practice group of four people still meet by Zoom on a monthly basis [for more than two years]!!!!
The We Space holds us and we hold the We Space. That is our responsibility. It is new, we can´t imagine. We just have to be present in togetherness. I practice to sense the We Space in other meetings and encounters. But there, I am alone, meanwhile through the programmed meetings it is possible to explore the we space together with a group.
Participating in a WE-program gives me the sensation of zooming out of my little world and seeing planet Earth from a distance as if I would sit on the moon. I feel the connection between people all over the world and realize that we all are humans facing similar problems and challenges.
The HigherWe is the experience of dialoging with a group a people and feeling like you have the ear of all humanity. It is feeling like humanity is having a conversation with Itself, pushing against the edge of what we know so the new can emerge, not in me but in WE. It doesn't feel like an exercise to improve the self but an unfolding of the WE. It is an experience of Divinity in the form of humanity and when you don't feel it you still know it is there!
I think perhaps personally, the biggest revelation in this Higher We Space work with One World in Dialogue has been the realization that who I am is much bigger than I ever imagined. Through the opening of this small and seeming separate self in relation to others, I am experiencing the full, and these days, wild embrace of all of life. And we are not separate from it! In my vulnerability, with other likeminded yet diverse individuals, together we are learning about a love which is in and of all, and as Julian of Norwich said: "All shall be well, and all shall be well, and all manner of things shall be well." I/We can trust Life.
Trust, one step at a time.
Opening my life to the We Space has opened my awareness even more to the living field which connects all of existence. In doing so, I feel my Self transformed, along with the way I show up in the relationships in my life. Participating in different We Space programs has given me a great gift of feeling touched, seen and connected effortlessly along with inspiring me to give a voice to this living field, the We Space. It feels easier to ground into the present and receive life's surprises with grace and clarity.
Module 1: June 10-11consciousness
JUNE 10 – SESSION ONE: Presence & Embodiment
Parameters of being online–limits & opportunities
The preciousness of this time of not knowing
Penetrating the hypnosis of the screen
Opening to the realm of interbeing
Coming alive as a collective
JUNE 11 – SESSION TWO: Sculpting Atmospheres
Cultivating Coherence
Language as invocation
Tending to Interbeing
Creative Friction not Fragmentation
Building Momentum
JUNE 12 – SESSION THREE: Designing Presence
Lighting & Space
Diversity & Integration
Rhythm & Tempo
Participatory Flow
Maximum connectivity
JUNE 13 – SESSION FOUR: Designing Process
Innovative Intros
Breathing with Nature
Easy Engagement
Expanding Online Limits
Special Zoom Features
Module 2: June 12-13design
June 10 Wednesday

Module One: Session One
June 11 Thursday

Module One: Session Two
June 12
Friday

Module Two: Session Three
June 13
Saturday

Module Two: Session Four
Participants join one 3-hour session each day.

We offer each session twice:
7:00am - 10:00am UTC (for Europe & East)
2:00pm - 5:00pm UTC (primarily for US & West)

World Clock
You select the time each day that works for you.

To translate your time zone into UTC (Coordinated Universal Time), check the time converter above or at World Time Buddy.
Each session will last for 3 hours, with a break. The sessions include:
instruction,
experiential exercises,
small and whole group dialogues, and
Q&A.
The Modules are designed to build on each other, so it's strongly recommended to engage with them in the order presented here.