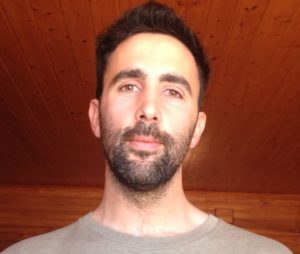 For the last 3 years, I've been co-founder and CEO of Human Online, an online platform dedicated to sharing presence and connecting with others in non-cognitive ways. I'm a software engineer with past experiences including being an alpine ski racer and coach, an entrepreneur in the ski world, and 5 years as a professional online poker player competing at the highest levels.

Over the last 6 years I've been on an intense path of studying and exploring consciousness, studying deeply in the field of Thomas Hübl and his Academy of Inner Science in Germany, and being strongly involved in a wide variety of trainings and exploration groups on personal and spiritual development, individual and collective shadow work, men's work, cultural architecture, subtle competences, meditation and mystical principles.

Technology and the virtual world have always been fascinating for me, and in the past they often served me as a way to escape feeling and being vulnerable in relation to others. I've found my calling in using technology to create ways for people from all places and backgrounds to experience a deep sense of connection with each other. I believe that caring about each other comes naturally when there is safety and presence, and that shared inner experiences facilitated through technology can help humanity see more of itself, having a profound impact in the challenges the world faces.
To access Human Online, please click here.